Motorcycle Accident Lawyers in Palm Beach Gardens, Florida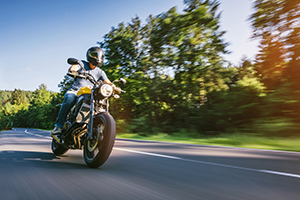 As a motorcyclist, you understand the risks involved in riding, and the importance of respecting your bike's power and limitations, as well as those of other drivers on the road. Unfortunately, motorcycle accidents are a harsh reality, often resulting in severe injuries or fatalities due to the lack of structural protection and airbags available in cars or trucks. In fact, according to the Florida Highway Safety and Motor Vehicles, there were nearly nine thousand motorcycle accidents in 2022, with nearly 600 resulting in deaths.
If you've been in a motorcycle accident and suffered injuries, you deserve to be fairly compensated for your pain and suffering. We understand how challenging this experience can be, and at The Law Office of Roger P. Foley, we're here to help. Our compassionate team of motorcycle accident attorneys are located in West Palm Beach, and we proudly serve clients in Palm Beach Gardens,Florida.
When you contact our office, you'll speak directly with Roger P. Foley, who will analyze your case with efficiency and care. We understand the urgency of your situation and will quickly to acquire the compensation you deserve.
If you're an accident victim, please don't hesitate to call us at 561-746-7076 . We're here to support you and guide you through this difficult time.


Process to Follow After A Motorcycle Accident In Palm Beach Gardens
Request medical attention: If you or anyone else involved in the accident is injured, seek medical attention right away.
Contact the police: Call 911 and report the accident to the police. Wait for them to arrive at the scene of the accident and follow their instructions.
Document the accident, if possible: photograph the accident scene, including your motorcycle and the other vehicle and any injuries you or others may have sustained.
Exchange information: Exchange contact and insurance information with the other parties involved in the accident.
Contact your insurance company: Call your insurance company and start a claim
Contact a lawyer: Consider contacting a personal injury lawyer who can help you navigate the legal process and protect your rights.
Follow up on medical treatment: Follow up with medical treatment for any injuries sustained in the accident.
It's important to remember that each accident is unique and the steps you should take may vary depending on the circumstances. However, following these general guidelines can help ensure that you protect your health and legal rights after a motorcycle accident in Florida.
---
Is It Necessary To Call My Insurance Company After My Motorcycle Accident In Palm Beach Gardens?
Yes, it is recommended that you contact your insurance company after a motorcycle accident in Florida. However, it's important to be aware that all calls may be recorded and what you say could potentially harm your claim. To protect your rights and ensure fair compensation, it's advised to limit what you say and seek the assistance of a reputable law firm who can communicate with the insurance adjuster on your behalf while you focus on recovering from the accident.
---
What Are The Types Of Damages That Can Be Obtained By An Injured Motorcycle Rider Or His Family In Palm Beach Gardens?
If you are a rider that was involved in a crash in Palm Beach Gardens and survived, it's highly likely that you've sustained severe injuries. It's crucial to consult with a motorcycle accident lawyer serving Palm Beach Gardens to converse about the specifics of the crash. In general, an injured motorcyclist who has been a victim of someone else's negligence may be eligible to be paid damages for:
All Medical expenses.
Compensation for pain and suffering.
Replacement of your bike.
Lost wages caused by your injury.
Loss of future wages if the motorcyclist is permanently disabled from the accident.
In case of a fatality, cost of funeral, loss of consortium, lost income, and other types of compensation may be pursued by the family members.
---
Understanding the Statute of Limitations for Motorcycle Accidents in Florida
In Florida, there are time limitations set by the statutes that restrict the amount of time an injured party has to file a lawsuit to seek damages after a motorcycle accident. If you do not file a case within this period, you will likely be barred from any compensation.
For negligence claims related to motorcycle crashes, Florida law allows up to two (2) years to file a lawsuit. It's important to note that the clock starts ticking from the date of the accident.
---
Essential Components of Proving Negligence in Motorcycle Accidents
To be successful in motorcycle accidents cases, the plaintiff/victim must provide evidence of the other driver's negligence. To establish negligence, the following elements need to be proven:
Duty of Care: The plaintiff must show that the defendant had a legal obligation to act with reasonable care towards other road users, including motorcyclists.
Breach of Duty: The plaintiff must prove that the defendant breached their duty of care by failing to act reasonably and carefully while operating their vehicle.
Causation: The plaintiff must demonstrate that the defendant's breach of duty was the direct cause of the motorcyclist's injuries.
All three elements must be proven for a successful negligence claim in a motorcycle accident case. A motorcycle accident attorney can help gather evidence, identify witnesses, and build a strong case to help you obtain the compensation you deserve for your injuries and losses.
---
Understanding Florida's Modified Comparative Negligence Rule In Motorcycle Accident Cases
The modified comparative negligence rule in Florida applies to motorcycle accidents and car crashes alike. If a defendant's action doesn't put them 100 percent at faut, the insurance company will argue that the victim was partly at fault. This is a common tactic used by insurance companies to negate paying claims.
In accidents involving two vehicles, such as a truck and a motorcycle, the insurance carrier may try arguing that the motorcyclist was at fault. If proven that the plaintiff was partially at fault, he/she will be assigned some percentage a at fault. For example, if the case is worth $500,000 and the rider is found to be 10% responsible (equivalent to $50,000) for the wreck, then the rider will receive $450,000 in compensation.
However, under Florida's modified comparative negligence rule, a plaintiff/victim may only recover financial damages if they are found to be less than 50% responsible the accident. If the victim is found to be 50% or more responsible for the accident, they will be barred from recovering any money for their damages.
Establishing who is responsible for an accident can be more complex in multi-vehicle accidents and determining percentages of fault may be more difficult. In such cases, it's crucial to have a motorcycle accident attorney who can help navigate the complexities of modified comparative negligence and ensure that you receive fair compensation for your injuries and losses.
---
What Categories Of Damages Are Available In Motorcycle Accident Cases In Palm Beach Gardens?
In Palm Beach Gardens, motorcycle accident victims may request compensatory and punitive damages.
Compensatory damages are awarded to cover the specific losses suffered by the victim, such as medical services and repairing or replacing your property. These damages are designed to make the victim whole again by compensating them for their actual financial losses.
Punitive damages, on the other hand, are awarded to penalize the defendant for their bad behavior. For instance, if a driver was under the drugs and caused a motorcycle accident, they may be held liable for punitive damages in addition to compensatory damages.
If you have been involved in a motorcycle accident in Palm Beach Gardens, it's important to seek the assistance of a motorcycle accident attorney. The Law Office of Roger P. Foley is here to help you.
If you've been involved in a motorcycle accident and are feeling overwhelmed, know that you don't have to face this alone. Contacting the best motorcycle accident attorneys in your area can help alleviate some of the stress and uncertainty that you may be feeling. The Law Office of Roger P. Foley, located in Palm Beach and Broward Counties, is here to assist you anywhere in Florida. Our team is dedicated to helping you navigate the legal process and obtain the compensation you need to recover from your injuries and move forward. Don't hesitate to reach out to us for help.
---
What methods can be used to assess a just settlement in motorcycle accidents that occur in Palm Beach Gardens?
To determine a fair settlement in a motorcycle accident case in Palm Beach Gardens, several factors must be considered. A knowledgeable motorcycle accident lawyer in Palm Beach Gardens will consider the liability and negligence of the other driver, using information obtained during crash investigation. They will ascertain maximum insurance coverages of all parties. Additionally, your lawyer will determine if you have uninsured motorist coverage and evaluate the extent of your injuries and necessary medical treatment, including surgeries.
Property damage and lost income will also be factored into the settlement amount. Your lawyer will prompt you to follow all medical advice and attend treatment. They will also outline the how the accident effected your life, such as permanent disfigurement or limitations on activities you once enjoyed.
Every case is unique, but to determine a fair settlement, one must examine liability, injuries received, and the available insurance coverage. A top motorcycle accident lawyer in Palm Beach Gardens will compute an equitable sum and dispatch a demand letter to the insurance provider.
---
What Does Settlement Claim Mean?
When you are injured in a motorcycle accident due to someone else's negligence, you have the right to seek compensation for your injuries. The compensation sought includes medical bills, past and future lost wages, and pain and suffering. If a family member is killed in the accident, the family can seek compensation for wrongful death.
There are two ways to receive compensation from the responsible party:
File a lawsuit, go to trial, and obtain a verdict for damages.
Reach an out-of-court settlement with the negligent party or their insurance company.
At the Law Office of Roger P. Foley, P.A., we understand that being involved in a motorcycle accident can be a traumatic experience. That's why we prioritize helping our clients by working towards reaching a fair and timely settlement for their injuries and losses. If a fair settlement cannot be reached, we are ready to fight for our clients in trial courts throughout the state of Florida. We are here to support you every step of the way.
---
Is It Possible To File A Lawsuit In Florida For A Motorcycle Accident If I Didn't Have Motorcycle Insurance?
If you were involved in a motorcycle accident in Florida and did not have motorcycle insurance, you may still be able to file a lawsuit. Unlike cars, Florida law does not require motorcyclists to have Personal Injury Protection (PIP) insurance because PIP only applies to vehicles with four or more wheels. To seek compensation for your injuries, you can file a claim with the insurance company of the other party responsible for the accident.
---
What Is The Typical Timeframe For Resolving A Motorcycle Accident Case In Florida, Specifically In Palm Beach Gardens?
The timeline for resolving a motorcycle accident case in Florida varies as each fact patter is unique. At the Law Office of Roger P. Foley, we prioritize working efficiently and quickly to get the best possible outcome for our clients. Yet, insurance companies may throw a low offer out in hope of settling quickly. Our goal is to provide our clients with stellar legal representation. We work to ensure they are compensated. We represent motorcycle accident victims throughout the entire state of Florida.
---
Maximizing Compensation in Personal Injury Cases: Importance of Insurance Policy Limits
It's crucial to investigate the accident and determine the insured's policy limits to ensure maximum compensation for the client's damages. At the Law Office of Roger P. Foley, P.A., with offices in West Palm Beach and Fort Lauderdale, we conduct a thorough investigation of the accident, collect all your medical billing, and demand the insurance company pays you for your losses.
The greater the evidence we can furnish, the better the chances of persuading the insurance company to approve an equitable settlement. Our objective is to secure the highest possible compensation for your injuries and losses. Reach out to us today to initiate a conversation about your personal injury case and how we can assist you in obtaining the compensation you are entitled to.
---
Steps For Preparing A Demand For Settlement In Motorcycle Accident Cases
Preparing a settlement demand is a crucial step in ensuring maximum compensation for injuries caused by the motorcycle accident. The settlement package presents strong evidence of the other party's liability and requests fair financial compensation for the injuries sustained.
A demand letter includes detailed evidence such as photographs of the crash, the damaged motorcycle, and the victim's injuries. Videos, if available, can also be included to strengthen the case. A motorcycle accident lawyer will gather all the evidence and present a compelling case to ensure maximum compensation on the claim.
Upon receiving the settlement package, the adjuster assigned will likely make a counteroffer. Negotiations will continue until an agreement is reached. Once a settlement is agreed upon, a release will be signed to prevent any further legal actions related to the accident.
It's crucial to work with a personal injury attorney in preparing a strong settlement package and negotiating with the insurance company.
---
The Importance Of Legal Representation In Insurance Settlements
Settlements are an agreement with entity responsible for compensating you for your injuries. In most cases, it's the insurance company. Negotiating with the insurance adjuster can be challenging, as the insurer's goal is to negotiate for the minimum amount.
It is crucial to have a reputable attorney by your side who understands your rights and can advocate on your behalf. A personal injury attorney has a goal of helping you receive what you deserve.
Without legal representation, you may not fully understand the terms of the settlement or the true value of your case, and you may settle for less than you deserve. Therefore, it is essential to have an attorney who can help you navigate the settlement process and fight for the compensation you deserve.
---
Is It Likely That A Florida Motorcycle Accident Case Will Go To Trial?
While it is possible for a Florida motorcycle accident case to go to trial, most cases result in a negotiated settlement. However, when the insurance fails to pay their fair portion, a trial often occurs
---
Can I Still File A Motorcycle Accident Case In Florida If I Was Not Wearing Head Protection?
Yes, you can file a motorcycle accident case if you were not wearing a helmet at the time of incident. Failure to wear a helmet does not disqualify you from seeking justice. However, there are some factors that may affect the outcome of your case. For example, if your injuries were more severe because you failed to wear a helmet, this could impact the amount of compensation you receive. Additionally, riders under age 21, are required to always ride with a helmet on.
---
The Role Of A Palm Beach Gardens Motorcycle Accident Attorney In Your Accident Claim
When you are involved in a motorcycle accident, it is essential to have a knowledgeable attorney on your side to guide you through the legal process and help you obtain fair compensation for your injuries. Here are some of the things a personal injury lawyer can assist with:
Collecting evidence that can assist you: Your attorney will compile evidence to help process the claim, such as medical records, witness statements, and police reports.
Visit the accident scene: Your attorney may visit the scene of the accident to get a better understanding of the circumstances that led to your injuries.
Review accident reports
Your attorney will speak with witnesses to the accident to gather additional information about what happened.
Consult medical experts: Your attorney may consult medical experts to provide testimony about the extent of your injuries and the medical treatment needed.
Reconstruct the accident scene: Your attorney may work with an expert to reconstruct the accident scene and provide a detailed analysis of what occurred.
Overall, a Palm Beach Gardens motorcycle accident attorney can help you navigate the complexities of the legal system and ensure that you receive the compensation you deserve for your injuries and losses.
---
In Palm Beach Gardens, Which Motorcycle Accident Categories Are Frequently Observed?
Accidents Amid Lane Transitions This occurs when trucks or cars suddenly change lanes and collide with the motorcyclist. Drivers often fail to notice the motorcyclist, causing an impact.
Lateral Impact Incidents: When a motor vehicle collides with the rider from the side. This is common at where roads intersect. This results in severe injuries or fatalities to the motorcycle driver.
Back-End Crash: This incident takes place when a vehicle follows too closely or when the driver becomes distracted, leading to the car colliding with the motorcycle from behind.
Frontal Collision: This happens when a motorcyclist impacts the rear or side of a truck or car, often causing the driver to be forcibly thrown. This situation arises when a car driver makes an abrupt lane change directly in the path of the motorcycle.
Direct Contact Crash results in the highest fatalities of motorcyclists.
Left Turn Accidents: Vehicle turns left and motorcyclist is unable to react.
Sweeping turn Accidents: This may happen when a motorcyclist is driving too fast into a turn, causing them to go wide and collide with another vehicle or a stationary object.
Commercial Transport Accidents: When a commercial vehicle, such as a semi-truck or 18-wheeler, turns in front of a motorcycle, leaving insufficient space for the rider to avoid contact, it can lead to severe injuries or fatalities.
Vehicle Door Collsion: This occurs when a vehicle suddenly Extends their door into the trajectory of the motorcycle rider. causing a collision.
Shifting Lanes: While switching lanes, it's imperative for drivers to ascertain that the lane they intend to enter is devoid of any obstacles. Failure to do so can result in disastrous outcomes for the motorcycle rider.
---
What Are The Common Injuries Sustained In Motorcycle Crashes In Palm Beach Gardens?
Motorcycle crashes in Florida can result in serious and life-threatening injuries. The most common injuries include:
Traumatic Brain Injury (TBI): Motorcycle riders are at a higher risk of suffering from TBI due to the lack of helmet laws in Florida. TBI results in various cognitive, physical, and emotional impairments.
Internal Injuries: internal bleeding or organ damage.
Back Injury: A spinal cord injury can result in permanent paralysis and loss of bodily functions.
Lower Extremity Injury: Motorcycle riders are also at risk of losing their limbs due to the severity of lower extremity injuries sustained in accidents.
Bone Fractures: Motorcycle accidents can result in broken bones, including facial bones, collarbones, wrists, arms, or legs.
Skin abrasions: This type of injury occurs when the rider makes contact with the road surface. It can cause severe disfigurement, and skin grafting may be necessary to heal the injury.
---
Calling The Other Driver's Insurance Company After An Accident In Florida: Good Or Bad Practice?
Bad. Do not do it. They will find a way to pay you less. Often, the insurance company will contact you to obtain a statement and use it to avoid paying you. It is important to be cautious and avoid speaking with them. Instead, contact a qualified motorcycle accident lawyer in Palm Beach County who can protect your rights and help you obtain fair compensation for your injuries.
---
Different Kinds Of Motorcycles Driven in Palm Beach Gardens, Florida
Roger P. Foley, a motorcycle enthusiast, has experience riding different types of motorcycles from sport bikes to cruisers. Here are some common types of motorcycles you may encounter in Palm Beach Gardens, Florida:
Cruiser motorcycles: These bikes are great for long-distance travel and are often preferred by older riders. They have a relaxed riding position and offer a smooth ride.
Sport bikes: These are lightweight, powerful bikes designed for speed and agility. They are popular among younger riders who enjoy racing and aggressive riding.
Touring motorcycles: These bikes are designed for comfort and long-distance travel. They often have large fairings, comfortable seats, and ample storage space for gear.
Dual-sport motorcycles: These bikes are designed for both on-road and off-road use. They have a higher ground clearance and are equipped with off-road tires, making them perfect for adventure riding.
Scooters: These are small, lightweight bikes with an automatic transmission. They are popular for short commutes and are often seen on college campuses or in urban areas.
No matter what type of motorcycle you choose, always ride safely and wear proper protective gear.
Dealing with the aftermath of a motorcycle accident can be a daunting task, especially with the physical pain, emotional trauma, and financial burden that comes with it. The Law Office of Roger P. Foley understands the challenges and is committed to helping you through this difficult time.
Call us today at (561) 746-7076 if you or a loved one has been injured in a motorcycle accident.
---