Palm Beach Gardens Amusement Park Accident Lawyer | PGA Amusement Park Negligence Attorney
Habla Espanol? Click Here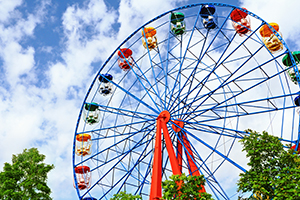 Amusement parks are a favorite destination for everyone in Palm Beach Gardens, FL. Many residents of Palm Beach County visit Orlando to enjoy the multiple theme parks available. The haunted houses are also popular during Halloween Horror nights, as the scared run their way through the spooky mazes. While amusement parks are intended to bring joy and entertainment to guests, there are unfortunately times when accidents and injuries occur. With millions of visitors to amusement parks in Florida each year, many guests are injured, some of which may result in death.


Those injured at an amusement park, may be able to pursue a negligence or product liability claim against the amusement park, the ride manufacturers, and other parties.
If you find yourself in this situation, it may be advisable to seek the services of a Palm Beach Gardens amusement park accident attorney. A skilled personal injury lawyer can help you navigate the legal process and advocate on your behalf to secure financial compensation for your injuries. This may involve reviewing the circumstances surrounding the accident, conducting an investigation to determine its cause, and enlisting the support of relevant experts to bolster your case.
If you or someone you care about has been injured during a trip to an amusement park, please don't hesitate to reach out to the Law Office of Roger P. Foley for assistance. Our team provides compassionate and effective legal representation to those who have been injured anywhere in the state of Florida. We understand the challenges that can arise from such incidents, and we are here to help guide you through the process of seeking justice and compensation.
Are the Statistics Accurate Regarding Theme Park Injuries?
It's worth noting that statistics on amusement park injuries are not always reliable and may not fully capture the extent of the harm that can occur. This underscores the importance of seeking qualified legal representation if you or a loved one have been injured while visiting an amusement park. Our team is here to help, and we encourage you to call us at (561) 746-7076 for assistance.
The IAAPA collects injury statistics from amusement facilities that choose to participate. However, it's important to note that not every amusement park will voluntarily provide this data, so the statistics provided may not accurately reflect the full scope of injuries that occur.
Additionally, it's worth acknowledging that injury statistics from 2020 through 2022 may not be representative of typical years, as many parks were closed or operating under reduced capacity due to Covid-19 restrictions. As a result, injury rates during this period may have been artificially lower than in previous years.
---
What Are The Facts About Amusement Park Accidents?
Florida has rules that keep people safe at amusement parks, festivals, and carnivals. These places are checked often to make sure they are safe for people to have fun. Even though these rules are in place, accidents can still happen. People of all ages can get hurt, from young kids to older adults. Some injuries are very serious and may even cause death. But the International Association of Amusement Parks and Attractions says that the chance of getting seriously hurt at an amusement park in the U.S. is only one in 16 million!
In Florida, there are two types of amusement rides.
In terms of regulation, non-permanent attractions that travel to different locations, like carnivals, are regulated by the Department of Agriculture and Consumer Services. In 2020, a bill called CS/HB 1275 which outlines the regulations for these types of rides was passed.
However, Permanent rides or attractions, which do not typically change location, are inspected twice yearly. Theme parks such as Universal, which are permanent and employ thousands of people, are regulated by local and state authorities. Parks are not regulated by any federal agency.
---
What Are The Different Types Of Injuries That Can Occur At Amusement Parks In Florida?
Guest injuries at amusement parks can range from mild to severe. Here are some common injuries seen at theme parks and carnivals.
Cuts, bruises, and broken bones from falls or collisions on rides
Head and neck injuries, such as concussions and whiplash
Heatstroke or dehydration during hot summer months
Back and Spinal injuries
Brain injuries
Death in extreme cases
---
What Are The Top 7 Causes Of Amusement Park Injuries?
Although safety measures are implemented to prevent injuries to riders, accidents still happen because of mechanical and human errors. Even with proper maintenance and inspections, the operation of machinery always carries some level of risk.
The top 7 causes of amusement park injuries are:
Mechanical failures or malfunctions of rides or attractions
Slip and falls on wet or uneven surfaces, including during embarkation or disembarkation from rides
Improper use or inappropriate behavior on rides, such as a failure to follow directions or not using safety restraints properly
Physical trauma from impact or collision during rides, particularly roller coasters or other high-speed attractions
Pre-existing medical conditions that are aggravated by the physical stress of rides or attractions
Inadequate or ineffective safety protocols, including operator error or inadequate training
Heat exhaustion or dehydration during hot summer months
It's important to note that this list is not exhaustive and that every injury situation is unique. Amusement parks must prioritize the safety of their guests and take steps to prevent accidents and injuries from occurring.
List of Fairs and Carnivals near Palm Beach Gardens
South Florida Fair
Annual Palm Beach Marine Flea Market and Seafood Festival
Palm Beach International Boat Show
Delray Affair
Sunfest
Winter Equestrian Festival
Wellington Bacon and Bourbon
Florida Outdoor Expo
Palm Beach Food & Wine Festival
Seafood Festival
---
In Florida, How Are Amusement Park Rides Regulated?
Non-permanent parks such as the South Florida Fair falls under the jurisdiction of the FDACS and are regulated by state statutes. Permanent parks, such as those in Orlando, are not subject to federal regulation.
---
What Are The Two Most Common Lawsuits At Amusement Parks?
Negligence and product liability are the two most common legal claims filed in amusement park injury lawsuits. Negligence claims are based on the allegation that the park or its staff failed to take reasonable measures to prevent the injury. On the other hand, product liability claims argue that a defective or dangerous product, such as a ride component, caused the injury. In both instances, the injured party must prove that the park or ride manufacturer was responsible for the injury and that it resulted in damages like medical bills or lost income.
Residents of Palm Beach Gardens, FL who have been injured in an accident due to a design flaw may have grounds to bring a product liability lawsuit. If a design flaw is the cause of the accident, the claim would be against the company that produces a defective product. To win such a case, it must be proven that the injuries were caused by a specific defective part on the ride.
As an invited guest at a theme park, it's reasonable to expect that safety protocols are in place and followed. If a park visitor is hurt due to defective manufacturing, it is classified as a product liability case, which falls under the broader category of personal injury law. If successful, the injured party can receive financial compensation for their damages.
---
How Does a Defendant Argue Against A Plaintiff's Lawsuit?
Some defenses that may be used in amusement park injury cases include:
Assumption of risk: This defense asserts that the injured party was aware of the potential risks involved in the ride or activity and voluntarily assumed that risk by choosing to participate.
Contributory negligence: This defense suggests that the injured party was partially or fully responsible for their own injury due to their own negligence, such as failing to follow safety instructions or warnings. Note Florida is now follows a modified comparative negligence model.
Act of God: This defense is based on the idea that the injury was caused by an unforeseeable natural event or circumstance, such as a sudden storm or earthquake, that was beyond the control of the park or ride operator.
Waivers or releases: Amusement parks often require visitors to sign a waiver or release of liability before participating in certain activities, which may limit or eliminate the park's liability in the event of an injury.
It's important to note that the use of these defenses does not guarantee a favorable outcome for the park or ride operator, as the specific circumstances of each case must be carefully evaluated to determine liability.
---
How Do I File A Amusement Park Injury Claim?
In the event of an injury at any type of amusement park, it is crucial to gather evidence and video document what occurred. Establishing negligence can be difficult, so collecting evidence is paramount.
Here are some ways to establish an amusement park injury claim:
Notify the parks workers and request contact information of supervisors. Call for emergency medical services. Large theme parks always have employees on site to help.
Obtain witness information, including names, phone numbers, and email addresses of any witnesses to the incident. Strangers who have no interest in your case are great witnesses. Your PI attorney will contact these witnesses. Use your cell phone.
Collect video, audio, and photographs to strengthen your claim.
Seek medical attention and follow up with all treatment recommendations. Follow up medical treatment is the most crucial aspect of any personal injury claim. Failure to seek medical attention or follow up with treatment recommendations can result in reduced or denied compensation. Go to the doctor.
Keep a record of all doctors consulted and any copies of all medications prescribed. This makes it easier to create a ledger of medical providers and medicines.
If you or someone you know has been injured in Palm Beach Gardens, please know that you do not have to go through it alone. Navigating the legal system while recovering from an injury can be overwhelming, which is why we encourage you to call us at (561) 746-7076 to speak with Roger P. Foley, a compassionate personal injury attorney. We are dedicated to ensuring that you receive the compensation you deserve. Your health and well-being are our top priorities, so do not hesitate to contact us for assistance.
---