Trucking Accidents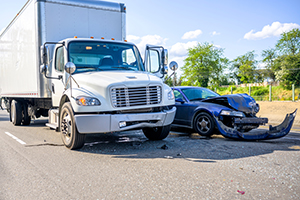 Thousands of motorists are serious injured or killed in trucking accidents each year. Tractor-trailers are large vehicles that carry heavy loads. When you combine size, weight and speed the results can be catastrophic. When a large commercial truck hits a family vehicle or a mini van the injuries caused to your family can be devastating. Small children and their siblings can be seriously injured or even killed.
Due to the many trucking accidents each year, the department of transportation has rules and regulations for these large vehicles. Truck drivers must ensure the safety of the vehicles. They must maintain a driving log and not drive more then a set number of hours and have designated sleep times. Additionally, they are weight controlled and cannot exceed a certain weight capacity. Cargo must be properly tied down or evenly distributed to prevent trucks from tipping over. There are many rules that are set forth in their regulations to minimize accidents with smaller vehicles. Failure to adhere to the rules can lead to serious accidents.
If you have been involved in a trucking accident and suffered a serious injury or if a family member has been in a trucking accident that led to their serious injury or wrongful death then contact our law firm to discuss the case. If truck driver or the trucking company was negligent for failing to properly maintain the truck and you were injured as a result then you may have a strong claim against that party and their insurance carrier.
Tractor-trailer accidents are often the worst types because of the size and weight of these vehicles. If you are involved in an accident then we understand the far-reaching impact that this can have on you and your family. We cannot turn back the clock but we can help ensure that your medical bills, future medical bills, wages, and injuries are compensated for when there is negligence on the other side. We want to help you so consider our firm.
The Law Office of Roger P. Foley is a small firm so we do not have dozens of departments and hundreds of people that shuffle through your case. You will talk directly to the trucking accident attorney and his support staff. When you talk to our office you will be talking directly to those that are working on your case. Our mission is to treat you the way we want to be treated. It is a tough time and you are injured, you have medical bills, there are billing companies calling, your vehicle is wrecked, and you want to know what is going on because you need to be compensated. We will work to have you compensated as quickly as possible and if we can negotiate a settlement we will be there to go to trial on your case.
The moment you are physically able you should contact our office, if you are in the hospital then we will come to you. We will collect traffic accident reports and do the leg work while you are treated by physicians for your injuries. Once we know the extent of your injuries we start contacting those responsible.