Military (Criminal Cases Only)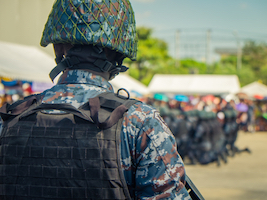 Our office practices in Military Law, including but not limited to all levels of court martial proceedings. We are honored to be able to represent members of all military branches - Army, Navy, Marine, Air Force and Coast Guard - in criminal matters. If you are being investigated for a criminal matter by the US military, contact our office - we can help. Criminal prosecutions under the UCMJ can affect not only your personal life, but also your career. You need a civilian attorney to represent you who is not afraid to stand up to authority and fight for your rights; we are that firm.
With criminal cases, even if you have a private attorney, you will also be assigned military counsel to help. We have found that to be of great help as the military counsel we have worked with are very well versed in the UCMJ and that allows us to concentrate on what we do best, motion and trial practice. We are very selective in the Military cases we accept. If you need an attorney that will fight for his fellow man or woman then you are in the right place.
Call us today at The Law Offices of Roger P. Foley.