Trespassing West Palm Beach Criminal Lawyers
Palm Beach County Criminal Defense Attorney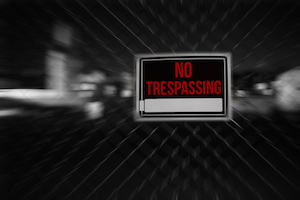 Trespassing charges in Florida can range from misdemeanor to felony and should not be taken lightly. A trespassing scenario you might be familiar with commonly involves an unruly patron who refuses to leave a nightclub, or one who attempts to re-enter a nightclub after being escorted out. A recent criminal case of trespassing in Florida involved an out-of-state basketball player who was visiting while on spring break. This young man was involved in a verbal dispute at a condominium complex after being ordered several times by security guards to leave the premises; he was subsequently charged with criminal trespassing.
---
Being Charged With Trespassing in Palm Beach
If you have been charged with trespassing in Palm Beach County, you need a knowledgeable and diligent attorney to help you fight your case. Trespassing charges can be tricky; however, the West Palm Beach criminal attorneys at The Law Offices of Roger P. Foley concentrate on charges such as these.
The definition of trespassing in a structure or conveyance is found under the Florida State Statute 810.08(1). You are considered trespassing if you have intentionally entered or remained in a structure or conveyance without previously being invited, authorized or licensed and refuse to leave, even after being warned by an owner or law enforcement officer. This charge carries a penalty of a second-degree misdemeanor.
The penalty for a trespassing charge can become a first-degree misdemeanor if there is another person in the structure at the time you trespassed. This definition can be under Florida Statute 810.08 (2)(b). It is also considered a first-degree misdemeanor if a notice is posted that communicates no trespassing.
A trespassing charge becomes a felony of the third-degree once you arm yourself with a dangerous weapon or firearm and trespass or attempt to trespass. This serious charge, found under Florida Statue 810.08 (2)(c), is definitely one you in which you need an aggressive lawyer on your side in order to protect you.
---
Florida Statute 810.08 Punishment
The punishment for trespassing is as follows:
A second-degree misdemeanor can carry a maximum jail term of up to 60 days. You could also receive a $500 fine.
A first-degree misdemeanor can carry a maximum jail term of up to 1 year. You could also receive a $1,000 fine.
If you are charged with a third-degree felony for trespassing, you are facing a maximum prison term of up to 5 years. You could also receive a fine of $5,000.
Our goal as your legal team is to have you walk away without a conviction. We will work hard to ensure you receive not only a minimum sentence, but also one that will not ruin your record and impede you in the future regarding school and work opportunities.
If you have been charged with trespassing, let The Law Offices of Roger P. Foley come to your defense. When you are facing criminal charges, isn't it important to have a team of skilled lawyers who can help? You get to choose your legal representation – don't you want the very best fighting for you? The most important thing to remember right now is you have only been charged with a crime. With competent lawyers on your side, you will be able to fight these allegations and move on with your life.
Our West Palm Beach criminal lawyers understand what the prosecution must prove in order for you to be found guilty of trespassing. This includes:
The alleged defendant knowingly entered or stay in a structure or conveyance.
The structure or conveyance the alleged defendant entered was in the possession of another person.
The alleged defendant entered or remained inside of the structure or conveyance without being invited, authorized, licensed or given permission.
"Structure" and "Conveyance" under Florida law carry specific meanings. For instance, "structure" relates to a building that has a roof over it, and any enclosed space immediately surrounding that building. A "conveyance" can mean a trailer, motor vehicle, ship, aircraft or vessel.
If you have been charged with trespassing and are facing incarceration, and/or probation and a stiff fine, let an accomplished attorney from The Law Offices of Roger P. Foley assist you in investigating your defenses and options. Criminal trespass misdemeanor and felony charges can have serious and lasting consequences, which can affect your record for life. Call us today at (561) 746-7076 to sit down with an attorney and discuss what your next move should be.