Juvenile Crimes In West Palm Beach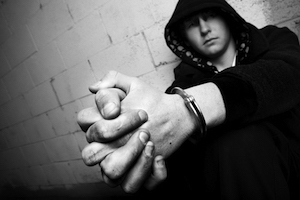 The biggest problem with the Juvenile Court System is that parents are never told about the seriousness of juvenile crimes and therefore they use a public defender or have no attorney at all. Due to the fact that the majority of juvenile cases result in probation and community services hours, parents have no way of knowing that when their son or daughter pleads "No Contest" that this may be on their child's criminal record until the age of 26. I imagine that many parents would seek out a qualified lawyer if they knew that their 15 year old son's case could possibly cause him prison time when he is 21 years of age. How? Let me explain:
Little Joey is 16 years of age and is arrested for stealing a bicycle that is valued over $300 and then he pleads (without counsel or competent counsel) no contest and is adjudicated guilty. At age 21, he is in the possession of a firearm by a convicted Felon. If you are adjudicated guilty as a Juvenile, you are considered a Felon for statutory purposes and scoring purposes. Accordingly, its important to know that a time served or adjudication of delinquency, or even a withhold on a felony juvenile case, can have extreme consequences if you are arrested prior to your 24th birthday.
If you have a child under the age of 18 and live in Palm Beach County, you may want to familiarize yourself with the Florida Juvenile Criminal Justice System. Juvenile crime is increasing at an alarming rate in Palm Beach County as well as other South Florida communities. Many parents believe that their children have privacy rights that protect them from the public eye when it comes to criminal activities. In the past, when minors were arrested, the arrest records were automatically sealed from public inquiry. Unfortunately, that is no longer the case. Today, juvenile arrest information, including photos along with name and age of minor children, is readily available at the public's fingertips with a simple online search for recent arrests.
Although juvenile records are no longer as private as they once were, Florida law grants automatic expunction (s. 943.0515) of juvenile records at age 24 or 26. This expunction depends upon prior history, arrest or conviction as an adult, and whether the minor has petitioned for expunction of some misdemeanors after successfully completing a teen court diversion program. However, unless you petition to expunge the arrest record of your minor child before he or she turns 24 or 26, the record is public until then.
What does this mean for your son or daughter? Plainly put, it means that after little Billy or Susie is arrested in Palm Beach County, unless you petition for expunction, that arrest record is openly available to the public until he or she turns 24 or 26. Imagine that your child is arrested for shoplifting at age 16. As Florida law currently stands, your child will continue to pay for that mistake well into his or her twenties. When your child goes to college and looks for a good job, an employer who finds your child's arrest record may not hire, despite your child's qualifications. More and more companies are engaging in background checks on your neighbors, your employees, your friends, etc. As a parent, you need to educate yourself on the Florida Juvenile Justice System, so that when your child applies for a job or fills out that college application, his or her past mistake as a minor is not going to come back to ruin current and future goals.
943.0515 Retention of criminal history records of minors
For more information about the juvenile court process, contact a West Palm Beach Juvenile Crime Attorney at The Law Offices of Roger P. Foley.