False Imprisonment - Florida Statute 787.02 | West Palm Beach Crime Lawyer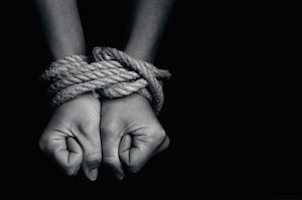 False imprisonment is where the defendant forcibly or by threat confined a person against their will.
---
What the State has to Prove for You to be Convicted of False Imprisonment
The state must prove beyond a reasonable doubt that:
Without the consent of the victim, you by force, by secret or by threat:

Confined the victim;
Captured the victim;
Restrained the victim; or
Trapped the victim; and

You had no legal authority to do so.
Confinement of a child below 13 years of age, without the consent of the parent or guardian, is considered to be against the child's will.
---
Examples of False Imprisonment
The level of confining does not have to be substantial or for a long period of time.
Examples false imprisonment convictions:
Grabbing the victim's arm and tussling back and forth to get the young girl near the car window. See Proko v. State , 566 So. 2d 918, 920 (Fla. 5th D.C.A. 1990).
Putting the victim in a bear hug. See Jane v. State , 362 So.2d 1005 (Fla. 4th DCA 1978).
Grabbing the victim by the arms and trying to drag her into the apartment. See Chaeld v. State, 599 So. 2d 1362, 1364 (Fla. 1st D.C.A. 1992).
Another situation is where parents are going through a nasty divorce and one of the parents takes the child. If the person taking the child does not have permission of the parent that has custody of the child, then that person can be charged with false imprisonment or kidnapping.
---
False Imprisonment and Kidnapping are Almost Identical
A person charged with false imprisonment can also be charged with kidnapping if they had intent to:
Ransom the person or use them as a human shield or hostage;
Complete or help complete a felony;
Cause physical injury or terrorize the victim or another person; or
Frustrate the performance of any governmental or political role.
If you have been arrested for only false imprisonment, an experienced prosecutor might be able to add on a kidnapping charge. This is because the two required elements for false imprisonment are also the two of the three required elements for the crime of kidnapping. If an experienced prosecutor can find out more facts about the case, they might be able to charge you with kidnapping and false imprisonment.
---
Punishment for False Imprisonment
The punishment for false imprisonment is a third-degree felony punishable up to 5 years in prison and a $5,000 fine. Remember that a kidnapping charge can be added onto your list of charges, if the facts allow, and kidnapping is a first-degree felony punishable up to life in prison and a $10,000 fine. This crime is ranked a level 6 under the Florida Criminal Punishment Code.
---
Contact the Law Office of Roger P. Foley, P.A.
If you have been arrested and charged with false imprisonment, our attorneys are ready and willing to help defend you. Our firm defends serious crimes such as False Imprisonment and Kidnapping. Call us so we can discuss the facts in your case and begin your defense today.