Surtax Fraud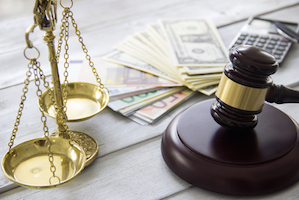 Have you been charged for a violation of Florida Statute 212.054(2)(b)? Florida Statute Chapter 212 is referred to as the "Florida Revenue Act of 1949." The subsection that defines how a person can be charged criminally for surtax fraud under the statute titled "Discretionary sales surtax; limitations, administration, and collection." Many people have never heard of the surtax fraud charge, let alone the statute.
The Florida Revenue Act of 1949 is a comprehensive tax statute enacted by the Florida Legislature with the primary goal of raising money in addition to all other taxes imposed by Florida and Federal laws. The law details what surtaxes may be applied to various transactions and contracts, including sales tax on the sale, lease, or rental of tangible personal property, as well as surtaxes on government contracts for construction or improvement of property.
Under Florida Statute 212.054(2)(b), a contractor who has contracted with a government entity to complete a project, such as development, construction, or improvements to real property or existing structures, is entitled in some cases to a refund of a surtax he or she paid on materials that were necessary for the completion of the contract.
How a contractor commits this crime is that they fraudulently apply for a surtax refund when they are not entitled to a surtax refund. In applying for the refund, the contractor is required to show "proof of the written contract and of payment of the surtax. The application shall contain a sworn statement, signed by the applicant or its representative, attesting to the validity of the application." The defendant being charged essentially supplied the prosecutor the evidence to be later used against the defendant. Deceptive crimes such as perjury and fraud bring the Sir Walter Scott quote to mind, "Oh! What a tangled web we weave when first we practice to deceive!" The fraudster gets "tangled up" in their own statements.
---
Punishment for Surtax Fraud
This crime is a third-degree felony. If a contractor is found guilty of violating Florida Statute 212.054(2)(b), he or she can be sentenced to 5 years in Florida State Prison, sanctioned with a $5,000.00 fine, be forced to repay the refunded surtax payment, and be sanctioned with an additional 100 percent penalty in the total amount of the surtax refund. The Florida Criminal Punishment Code ranks this crime as a level 1.
---
Contact the Law Office of Roger P. Foley, P.A.
If you have been charged with a violation of Florida Statute 212.054(2)(b), contact an attorney at The Law Office of Roger P. Foley, P.A. so that you can be helped.