Bribery Lawyer in West Palm Beach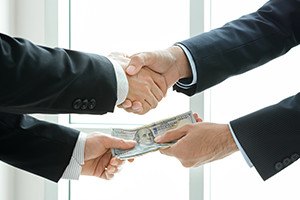 Bribery in Florida is best described as an offer of money, services, products or any other item of value to another person (particularly public officials, police officers, judges, politicians, jurors, etc.) in an attempt to influence that person's decisions. Not only is it a crime in Florida to offer a bribe, it is also a crime in Florida to accept a bribe.
Specific Bribery Crimes are found here:
---
Bribery Punishments
Bribery charges in Florida are serious crimes that could lead to up to 15 years in Florida State prison, not to mention irreparable damage to your reputation and career. If you are being accused of bribery, whether offering or accepting a bribe, you need experienced legal representation.
---
Contact the Law Office of Roger P. Foley, P.A.
Call today to schedule a 5 minute free consultation with our Palm Beach Bribery Defense Attorneys.