Keeping a Gambling House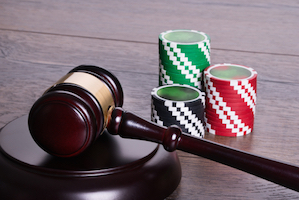 Most of us have images of scenes in movies or TV shows where there are many nicely dressed people all around some gambling tables. Everyone is enjoying themselves until there is a knock at the secret front door. The bouncer looks through the peep hole and says back to everyone, "It's the cops! Scram!" The people run and the police rush in through the front door and start arresting everyone. Can this happen in Florida or is this just only on TV?
According to Florida Statute 849.01, it is illegal to keep or maintain a gambling house. This includes a game table or room, tent, booth, or any other place that could be used for gambling. Not only is it illegal to control a gambling house, it is also illegal to permit any person to gamble in a place over which you have control. As stated by Florida Statute 849.08, gambling means playing a game of chance for money or anything of value. The game itself does not have to be illegal; the act of gambling or betting on the game, regardless of what type of game, is what constitutes the crime.
---
What the State has to Prove for You to be Convicted
For you to be convicted of the crime, the state must show:
You were in person or remotely by someone else (servant/ agent); and
The location continually was kept or maintained for the purpose of gambling.
The state prosecutor does not have to prove that you profited from the gambling house or that you participated in the gambling. The prosecutor does not even have to prove anyone was gambling but that certain things that are associated with gambling were found there in such a way that would prove that gambling was taking place. (Police showing up at a building and finding a pool table, a card table with chips and cards on it, a blackjack table, and some ledgers of a "bookie."). Frequently an undercover agent or confidential informant gathers the information to show that gambling is occurring.
Charges of keeping gambling houses or permitting gambling can be defended. An West Palm Beach Illegal Gambling House Lawyer at the Law Office of Roger P. Foley, P.A. can explain that a single instance of betting or gambling cannot be sufficient, pursuant to Florida law, to constitute the crime. If you were arrested in a scenario where the bet was an isolated instance and not a frequent occurrence, it is possible that you could have a strong defense. An West Palm Beach Illegal Gambling House Lawyer at our office can evaluate your specific case, advise you as to any possible defenses to the charge of keeping a gambling house, and help you determine how to proceed in your criminal case.
---
Punishment for Maintaining a Gambling House
If you have been charged with keeping a gambling house, you could be facing a third-degree felony which could potentially lead to a 5 year prison sentence and a $5,000 fine or even worse if you are a repeat criminal.
---
Contact the Law Office of Roger P. Foley, P.A.
If you are facing the charge of keeping a gambling house, contact an attorney at our firm who can help you determine the best possible defense. These case are more common than people know and we will work to prove your innocence.