Renting Out a Place to Gamble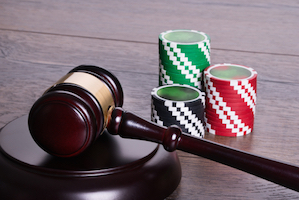 Have you been arrested and charged with renting out a place for gambling purposes? Florida Statute 849.03 makes it a crime to rent a house, room, booth, tent, shelter or place for gambling purposes. Florida Statutes Chapter 849 regulates gambling in Florida. Florida is a very restrictive state when it comes to gambling. There are a few exceptions to the complete gambling prohibition.
Not only is gambling prohibited, Chapter 849 prohibits anyone from providing or maintaining facilities to gamble. Florida Statute 849.01 prohibits anyone from maintaining a gambling house. Section 849.03 goes further to apply to renting a place out for gambling purposes.
Individuals break this law sometimes by helping hold fund raisers without knowing Florida law. There are exceptions for non-profit corporations doing Bingo, but if an organization falls outside of these exceptions, then criminal statutes apply. Many Florida citizens do not know all the Florida laws, but ignorance of the law is no excuse to criminal charges. Businessmen and employees who are renting out space, rooms, or tents could get in trouble because of this statute.
---
What the State Prosecutor has to Prove to Convict a Defendant of This Crime
The state prosecutor has to prove beyond a reasonable doubt:
The defendant had a substantial degree of control over and kept or maintained by either:

Being in person or by a servant, clerk, or agent; or
Acting as servant, clerk, agent, or employee of another; and

The place was or articles were habitually kept or maintained for the purpose of gambling.
The prosecutor does not have to prove the defendant profited from the gambling but that the defendant was an employee or agent of the owner or the owner of the property.
The prosecutor can convict an employee or agent under Florida Statute 849.02 even though they do not own the property.
"Gambling" is a game of chance in which the participant risks money or property on the outcome with the expectation of gaining or losing as a result of the game.
---
Defenses
There are defenses available. If the person renting the space or the tent was not told that this was for gambling or that it was for some other legal purpose such as a party, then the defendant could argue that his contract which prohibits renters from doing anything illegal voided the rental agreement; therefore, there was no renting going on.
Another defense is the place must be used many times for gambling and not just some isolated event.
---
Punishment
Anyone who commits this crime commits a third-degree felony which is punishable up to 5 years in prison and a $5,000 fine.
---
Contact the Law Office of Roger P. Foley, P.A.
If you or a loved one has been arrested and charged with this crime, call our law offices to schedule a 5 minute free consultation with one of our lawyers. These types of cases can be defended, so we need to talk to you to find out your version of the story. We will craft a defense strategy from those facts. We will find out what evidence the prosecutor has against you and what the police officers and witnesses observed regarding your case. All this evidence will be used to negotiate with the prosecutor to have the charges dropped. In the event the evidence against you is great, our Delray Beach Gambling Defense Attorneys won't throw in the towel. We can take your case to trial or negotiate a plea deal. Whatever happens, know that we will be there to fight to get you the best solution.