Second Time DUI Arrest
Most prosecutors and Judges can accept the proposition that a First DUI charge can happen to anyone. However, a second arrest for DUI signifies an alcohol or drug problem and the penalties are increased. Palm Beach County DUI prosecutors are tough when it comes to repeat DUI offenders as are the Hearing Officers at the Department of Highway Safety and Motor Vehicles (DHSMV). It's important to understand that your second DUI arrest will involve two battles: DMV Formal Review hearing and your DUI criminal case in the Palm Beach County Court.
Department of Highway Safety and Motor Vehicles (DHSMV) automatically suspends your driver license if you have a breath alcohol content .08 or higher or if you allegedly refused to provide a breath, blood or urine sample. Winning a Formal Review Hearing/Administrative Hearing is difficult so you want an experienced DUI Defense attorney. There are no waivers for a hardship license on a second DUI so your attorney will need to request a hearing on your behalf within 10 days of your arrest. Time is of the essence. Upon requesting a formal review hearing, DHSMV will provide a 42-day permit. That permit allows you to drive for business purposes only; to school/work, for religious services, for medical purposes and for the necessities of life. Necessities of life are often defined as the ability to go grocery shopping or going to court required hearings.
The Formal Review hearing is definitely not formal but it is under oath and recorded so it's another opportunity for your DUI attorney to acquire sworn testimony from the officer and other witnesses. Success at the Formal Review hearing means that you will not have your license administratively suspended (invalidate the suspension) for the six (6) to eighteen (18) month mandatory period. A loss will cause a time suspension based on the facts of your case. In order to win, your DUI attorney will have to show that there was a lack of probable cause for the stop, or that one of the elements of DUI were not present. For example, that you did not have actual physical control of the vehicle. Note: The result of the Formal Review hearing and the criminal case are independent from one another; meaning you can win formal review hearing and still lose the criminal case or you could lose the Formal Review hearing and still win the criminal case.
The Palm Beach Criminal portion of your DUI case will be handled at the criminal court house. In court, your DUI defense attorney will look for mistakes made by law enforcement and work diligently to reduce or dismiss your charges. A second DUI conviction can be devastating to an individual so everything must be examined so that you can avoid another DUI conviction. Remember, a second DUI will have increased penalties. A second DUI inside of a five (5) year period is more serious than a second DUI conviction outside of five (5) years.
---
---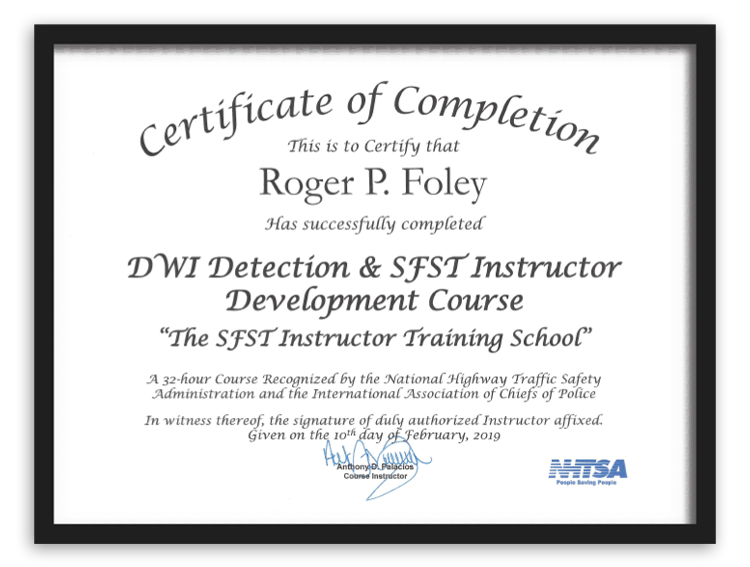 ---
Looking for a West Palm Beach Attorney for a Second DUI
This is a serious situation, you have been arrested for s second DUI and now is not the time to find the cheapest DUI attorney. You want the DUI Law Firm with the top trained, most experienced and detailed DUI attorney(s) that you can acquire. The Law Office of Roger P. Foley understands the serious of the situation and has one of the highest trained attorneys in DUI. Mr. Foley is a member of the National College of DUI Defense. He has extensive legal training in DUI defense and has received the same training as law enforcement. Mr. Foley has completed the same courses as police officers do in the police academy. Attorney Foley has taken the Advanced DUI course that select officers have received. Additionally, Attorney Foley is recognized by the National Highway Traffic Safety Administration (NHTSA) as a DUI Instructor. NHTSA is the countries authority on DUI and all police curriculum conforms with NHTSA guidelines. Having an attorney with both legal training and law enforcement training can significantly increase your chances of successfully defending your second DUI arrest.
The Law Office of Roger P. Foley represents individuals that have been arrested for DUI by every law enforcement agency in Palm Beach County. Arrested by a Florida State Trooper for a Second DUI, we can help. Arrested for second DUI by Palm Beach Sherriff's Office, we are ready to go. Arrested for a 2nd DUI by any of these law enforcement agencies and we are ready to dissect the case to prove your innocence: Jupiter Police Department, Boca Police Department, West Palm Beach Police Department, Tequesta Police Department, Riviera Beach Police Department, North Palm Beach Police Department, Palm Beach Gardens Police Department and the Juno Beach Police Department.
The Law Office of Roger P. Foley has represented individuals arrested for DUI since 2004. We have two offices: West Palm Beach and Fort Lauderdale, Florida. However, technology makes office appointments easy and we are available in every county in Florida. Need to fight your second DUI offense, call us at (561) 746-7076 to discuss your case strategy.
---
Second DUI Outside of Five (5) Years - Penalties
Arrested for your second DUI outside of five (5) years and unsure of the penalties. The Law Office of Roger P. Foley is clear and concise in breaking down Florida Statute 316.193(3). Here are the penalties:
Maximum Incarceration for a second DUI conviction is nine (9) months in the Palm Beach County Jail,
Maximum Probation is 12 (twelve) months,
Minimum Driver's License suspension/revocation is six (6) months and maximum of twelve (12) months. No hardship from DMV for second or subsequent DUI
Minimum Fine is $1000. Enhanced DUI meaning breath of.15 or higher or minor present in motor vehicle equals $2000 minimum to $4000 maximum fine.
Minimum number of community service hours are zero. Note: Palm Beach DUI Prosecutors always request in excess of 50 hours but it's not mandated by Florida statute on a second or subsequent DUI.
Minimum one (1) year Ignition Interlock Device. Ignition Interlock requires the driver to breath into device to drive the vehicle.
Minimum ten (10) day immobilization of vehicle. They put a locking boot on your car and you can't drive it during this time. Note: Palm Beach State Attorney's office policy requires a 30-days immobilization of vehicle.
A second-time DUI requires the defendant to attend DUI level 2 school and any recommended treatment.
---
Second DUI Within Five (5) Years - Penalties
As previously mentioned a second DUI within five (5) years of a prior conviction has more serious consequence. The Law office of Roger P. Foley has broken down Florida Statute 316.193 (6)(b), here are the penalties:
Minimum of 10 days Palm Beach County jail with a maximum of nine (9) months. Twelve (12) months for an enhanced DUI (.15 BAC or greater or minor in the motor vehicle). The statute allows for weekend jail so that you don't lose your job.
Probation is twelve months of monthly reporting.
Minimum fine is $1000 and Maximum is $2000. However, if enhanced DUI then minimum is $2000 and maximum is $40000.
Florida Driver's License suspension/revocation is five (5) years. Eligible for hardship/business purposes license after one year. Require no driving for first year, completion of level 2 DUI school and no consumption of drugs or alcohol for twelve months. Note: DMV checks your driving record so any infraction will disqualify during one (1) year no driving. Additionally, if you apply and are denied you must wait additional one (1) year.
DUI Level 2 school with drug and alcohol evaluation and any recommended treatment deemed necessary.
Minimum of one (1) year Ignition Interlock Device, minimum of two (2) years if BAC is .15 or higher. Ignition Interlock Device requires driver to breathe into machine when driving vehicle.
Minimum of thirty (30) days of vehicle immobilization (boot on your car). You can drive another vehicle but not that vehicle during immobilization.
** Note: There is no community service hour requirement, however, either through policy the Palm Beach State Attorney's office often requires seventy five (75) or more hours. The statute allows for the court, in its discretion, to buyout said hours at a statutory rate of $10 per hour.
---
Second DUI Arrest in Broward County, Florida
The Law Office of Roger P. Foley represents individuals arrested for their second DUI in Broward County, Florida. Our office began practicing DUI defense in 2004 in Fort Lauderdale, Florida. The Broward State Attorney's office has yet to implement a DUI diversion program for first time DUI offenders and requests jail time on a second offense of DUI. Accordingly, you either fight your case with an experienced DUI defense attorney or plea bargain your case, usually accepting an offer of incarceration. A second arrest for DUI in Broward County can cause collateral consequences, such as loss of job. Make sure you do the research and find an attorney that is knowledgeable, experienced, and willing to battle on your behalf. Consider the ramifications of not trying to defend your second DUI. Time lost is something you never get back, freedom is precious. Consider the Law Office of Roger P. Foley because we take defending a second DUI case seriously and have been battling DUI cases in Fort Lauderdale court rooms for years. Call us at 954-467-2946. Case Strategy evaluation available in office or via zoom.
---
DUI Second Offense in Martin County, Florida
If the Martin County State Attorneys office, does not have a first-time DUI diversion program, and considers incarceration on first time DUI cases. Knowing they are tough on alleged DUI offenders, you can expect stiff penalties on a second DUI arrest. Stiff penalties mean jail, if convicted. That is why it's important to start searching for a highly-qualified DUI Defense Attorney that is recognized in the community for representing individuals charged with their second DUI case. If you are incarcerated, it is quite difficult to handle your financial responsibilities, your mortgage or rent, your family. It makes it impossible to pick up your kids from school. If your reading this, then you are in a tough situation and need to find a competent DUI attorney immediately that does not run to the prosecutor's office to plea bargain your case. You need a respected attorney that will honor his commitment to his client and do his absolute best in defending the case.
After a second DUI arrest, it's important that your attorney request the discovery, acquire the video, fight the administrative suspension, and pull the arresting officers file to review previous arrests, DUI classes completed, police agency policy, and formulate a defense. No lawyer can guarantee a result but hiring an attorney that focuses on the practice of DUI is important. Working diligently to help a person accused of driving under the influence while maintaining a knowledge of both the legal issues and the curriculum taught to law enforcement is important. Roger P. Foley is a member of the National College of DUI Defense and a recognized Instructor for NHTSA thereby having the required knowledge to hold police officers that make DUI arrests to the standard they were taught during the Standard Field Sobriety Exercises curriculum. The moment a Martin County Deputy, police officer or Florida Highway Patrol Trooper deviates from the curriculum taught to them, it is an opportunity to invalidate a DUI arrest. Failingto properly administer an exercise causes the results to be questioned.
The Law Office of Roger P. Foley is excited, that's right excited, to take on the challenge of attacking your second DUI arrest in Martin County. We will review the facts with you, review all discovery, and other pertinent records to help assist you in properly defending your criminal case. It is not easy but we accept the challenge for our clients.
Contact our office at (561) 746-7076 for a free twenty (20) minute case strategy.
If arrested for DUI in Palm Beach County, Florida, you will be taken to jail and held for a minimum of eight (8) hours.