Introducing or Receiving Contraband from a County Detention Facility - Florida Statute 951.22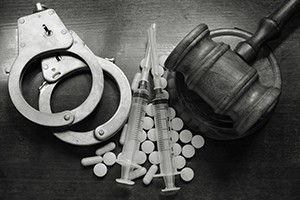 Florida Statute 951.22 makes it illegal to introduce or receive contraband at a county detention facility. There are three scenarios where this happens: (1) someone working at the county detention facility gives or receives the contraband, (2) a family member of a person in the county detention facility tries to give or receive the contraband, or (3) a person is arrested and no contraband is found on him, but when taken to the jail, contraband is found on him.
The third scenario happens typically because (1) the police officer did not do a thorough pat down of the defendant when he was arrested or (2) the arresting officer is of the opposite sex as the defendant and there is not another officer available of the same sex as the defendant to do a pat down.
Contraband is:
Any written or recorded communication; any currency or coin;
Any article of food or clothing; any tobacco products as defined in s. 210.25(11);
Any cigarette as defined in s. 210.01(1);
Any cigar;
Any intoxicating beverage or beverage which causes or may cause an intoxicating effect;
Any narcotic, hypnotic, or excitative drug or drug of any kind or nature, including nasal inhalators,
Sleeping pills, barbiturates, and controlled substances as defined in s. 893.02(4);
Any firearm or any instrumentality customarily used or which is intended to be used as a dangerous weapon; and
Any instrumentality of any nature that may be or is intended to be used as an aid in effecting or attempting to affect an escape from a county facility.
A county detention facility means a county jail, a county stockade, a county prison camp, a county residential probation center, and any other place used by a county or county officer to detain persons charged with or convicted of crimes.
---
What the State Prosecutor has to Prove to Convict a Defendant
The state prosecutor has to prove beyond a reasonable doubt:
The defendant either:

Introduced contraband into;
Knowingly possessed contraband in;
Gave contraband to an inmate in;
Received contraband from an inmate in;
Took contraband from;
Attempted to take or send contraband from;

A county detention facility; and

The defendant did not do so through regular channels as duly authorized by the Sheriff or officer in charge of the facility.
---
Defenses
Prosecutors tend to do the throwing spaghetti at the wall tactic – throw as many charges at the defendant to see which one he is convicted for. What happens sometimes in contraband cases is that drugs are involved and the prosecutor charges the defendant with possession of the drugs as well as trying to introduce the drugs into the county detention facility. You cannot be convicted for possession and for trying to introduce contraband during the same act. See Desire v. State, 829 So. 2d 948, 950 (Fla. 4th DCA 2002).
The contraband that is listed is very specific. If you are arrested for introducing something other than what is listed as contraband, say drug paraphernalia, you cannot be convicted of this crime. See Jordan v. State , 801 So. 2d 1032, 1035 (Fla. 5th DCA 2001).
---
Punishment
This crime is a third-degree felony which is punishable up to 5 years in prison and a $5,000 fine. This crime is ranked as a level 6 crime under the Florida Criminal Punishment Code.
---
Contact the Law Office of Roger P. Foley, P.A.
If you have been charged with this crime, call our law offices today to schedule a 5 minute free consultation. We want to talk to you to find out your version of the events. It is important to give us as many facts about the situation because from your facts, we will create a defense strategy to defend your case.
Sometimes cases just cannot be won. In this situation, our West Palm Beach Contraband Defense Lawyers will keep on fighting to reduce your punishment or charges. This is another reason we need to meet and talk with you because we need to find out who you are as a person. We will take that information and put together a mitigation package to present to the judge and prosecutor to persuade them to change the charge or lower the sentence.