Selling, Manufacturing, Altering, Delivering, or Uttering Prescription Drugs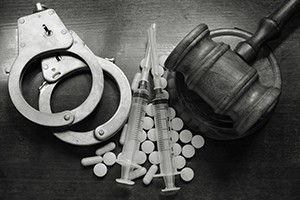 Florida Statute 831.311 makes it illegal to sell, manufacture, alter, deliver, utter, or possess blanks for prescription drugs in West Palm Beach. The reasoning behind this statute is that individuals who are addicted to prescription drugs want to keep up their addiction so they have to come up with ways to obtain the drugs. One strategy that is commonly used is "doctor shopping" where the person tries to find a doctor who will prescribe them the drug for some made up injury. This strategy just "short circuits" the whole doctor's visit by obtaining what was needed all along, a prescription drug blank. The defendant would then attempt to fill out the blank and pick up his "prescription."
---
What the State Prosecutor has to Prove to Convict a Defendant
The state prosecutor has to prove beyond a reasonable doubt:
The defendant sold, manufactured, altered, delivered, uttered, or possessed any counterfeit-resistant prescription blanks for controlled substances;
The counterfeit-resistant prescription blanks for controlled substances were in the form and content established by the Department of Health pursuant to law; and
The defendant intended to injure or defraud any person or to facilitate a violation of Florida Statute 893.13.
---
Punishment
This crime is a third-degree felony in West Palm Beach which is punished up to 5 years in prison and a $5,000 fine.
---
Contact a West Palm Beach Drug Sale Lawyer at the Law Office of Roger P. Foley, P.A.
If you have been arrested and charged with this crime, call our law offices to schedule a 5 minute free consultation with one of our West Palm Beach Drug Sale Lawyers. A conviction for this crime will have consequences. During the consultation, we want you to tell us your side of the story with all the good and bad facts. From these facts, we will create a defense strategy that is tailored-made to your case. We will seek to have your case dropped or dismissed. If need be, we will take your case all the way to trial and try to have you acquitted.
Not all cases can be won. In these situations, we will continue to fight to reduce your charges or your sentence. We can attempt to do this by creating a mitigation package to persuade the prosecutor and judge based upon the facts we gathered about who you are as a person from our consultations. This is why it is important to meet with us.
Whether your case is good or bad, we will fight for you. Call today so we can start fighting.