Introducing or Removing Contraband Juvenile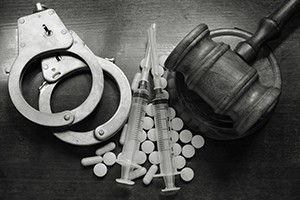 Florida Statute 985.711 makes it illegal to introduce or to take from a juvenile facility any contraband. There are three scenarios where this happens: (1) a juvenile has illegal contraband on him when he is arrested and searched, but the contraband is not discovered until he reaches the juvenile facility, (2) a worker at the facility brings in or takes out the contraband, or (3) a family member tries to bring in or take out the contraband.
Now it might seem odd that contraband was not found on a juvenile arrested till the facility, but this can happen in two scenarios: (1) the police officer did not properly do a pat down search of the juvenile or forgot to or (2) the police officer was of the opposite sex and there was no officer available of the opposite sex to do the pat down.
Contraband is defined as:
Any unauthorized article of food or clothing.
Any intoxicating beverage or any beverage that causes or may cause an intoxicating effect.
Any controlled substance, as defined in Florida Statute 893.02(4), or any prescription or nonprescription drug that has a hypnotic, stimulating, or depressing effect.
Any firearm or weapon of any kind or any explosive substance.
---
What the State Prosecutor has to Prove to Convict a Defendant in West Palm Beach
The state prosecutor has to prove beyond a reasonable doubt:
The defendant either:

Introduced contraband into;
Knowingly possessed contraband in;
Gave contraband to a juvenile offender in;
Took contraband from;
Attempted to take or send contraband from; or
Sent contraband to;

A juvenile detention facility or juvenile commitment program; and

The defendant did not do so as authorized by the program policy, operating procedure, facility superintendent, program director, or manager.
Possession can be actual or constructive. Actual possession is where it is in the hand, mouth, pocket, lap, etc. of the defendant. Constructive possession is a little bit harder to prove for the prosecutor. The prosecutor has to show that the defendant had control of the place where the contraband was or concealed it or the defendant had control of the contraband itself, had knowledge of it, and knew of its illicit nature. In situations as juvenile facilities, this can cause a potentially bad situation because almost all the contraband is hidden. It could be that the contraband was hidden by a previous juvenile, the facility workers were lazy and did not thoroughly check the facility for contraband items after the previous juvenile, and then the defendant was put in the same location.
---
Defenses
There is very little case law addressing this statute. However, Florida Statute 951.22 is a similar statute which deals with introducing contraband into county detention facilities and it does have some case law which will be helpful in understanding Florida Statute 985.711.
Prosecutors tend to throw on many charges. When the contraband is drugs, the prosecutor charges the defendant with possession of the drugs as well as trying to introduce the drugs into the juvenile facility. You cannot be convicted for possession and for trying to introduce contraband for the same event. See Desire v. State, 829 So. 2d 948, 950 (Fla. 4th DCA 2002).
The contraband that is listed is very specific. If you are arrested for introducing something other than what is listed as contraband, say drug paraphernalia, you cannot be convicted of this crime. See Jordan v. State , 801 So. 2d 1032, 1035 (Fla. 5th DCA 2001).
---
Punishment
If the contraband is food or clothing, the crime is a third-degree felony which is punishable up to 5 years in prison and a $5,000 fine.
If the contraband is something other than food or clothing, the crime is a second-degree felony which is punishable up to 15 years in prison and a $10,000 fine.
---
Contact the Law Office of Roger P. Foley, P.A.
If you or a loved one is charged with this crime in West Palm Beach, call our office to schedule a 5 minute free consultation. During the initial consultation, we want to hear your version of what happened. It is important that we find out as much as possible so we can create a defense strategy for your case. This strategy is essential to how we proceed in taking depositions and also at looking at the evidence given to us by the prosecutor. After reviewing the evidence, we will try and persuade the prosecutor to drop the case. If the prosecutor does not think that dropping the case is appropriate, we can proceed all the way to trial.
Not every case can be won; however, our West Palm Beach Contraband Attorneys will not throw in the towel, but we will continue to fight for your sentence to be reduced or your charges lessened. Call today so we can get to work helping you.